Happy 2019!
Welcome to our first SCADA newsletter! I will be posting monthly newsletter focusing on Asian traditions, resources, celebrations, and events to spread more knowledge in Deaf Asian community.
Before we proceed, we have exciting news!
Membership is now available! Ginny Paja Nyholm, our Membership Director explains in depth.
To join, please click here.
Lunar New Year Luncheon will be on February 16, 2019! It will be at Vegas Buffet in Glendale. Seats are limited. Kids are welcome.
Buy your ticket for Lunar New Year Luncheon here. Deadline is on February 10th.
Also, registration for Early Bird tickets to SCADA's 20th Anniversary Gala is available! Here's the vlog of Leo Samaniego, SCADA Treasurer and his friend, Vincent Cheung sharing the prices and location of gala.
Get your ticket here.
Let's proceed into this month's newsletter!
Video of the Month:
♥️🤟🏽 #ellen #whyisign #inclusion #languageaccess #bonding #communication #family #love #spreadawareness #educatewithlove #ohana Transcript: Hello! We are the Riray family My name is Rachel. My sign is. My name is Serena. My sign is. My name is Erica. My sign is. I'm Marie. I'm Mom. My name is Ray. I'm Dad. We are hearing. I'm Deaf. #WHYISIGN Inclusion happens at family events. For example, Christmas. I'm the only Deaf person. My family is all hearing. But it doesn't matter. There are different ways we can still communicate. For example, typing on iPhones, writing on paper, Deaf friendly games . That is inclusion! What is language access? Sitting around the dinner table and everyone is signing. That is language access! Bonding. Signing helps me connect closely with my sister. Communication. I'm a mother. I need to communicate with my daughter. Family. Families share language and love. That is #WHYISIGN! 🤟🏽 [Video description: Family of five. Sitting In Family room, wearing white shirts and Christmas tree behind.] Posted by Rachel Reyes Riray on Saturday, November 24, 2018
Holidays might be over but this video of Riray family will remind you how difficult it is to be with family who might not communicate in the way you hope for. Sign language is truly a gift for everyone. Hopefully, this video will inspire everyone! #whyisign
Documentary of the Month: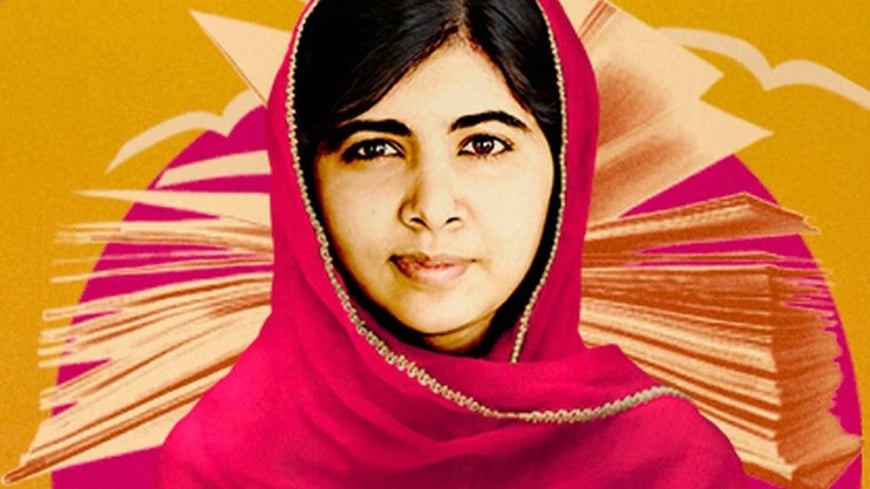 If you have Netflix account, I would recommend you to watch a documentary, He Named Me Malala.
"A look at the events leading up to the Taliban's attack on Pakistani schoolgirl, Malala Yousafzai, for speaking out on girls' education followed by the aftermath, including her speech to the United Nations."
Book of the Month:
How to American: An Immigrant's Guide to Disappointing Your Parents by Jimmy O. Yang
"I turned down a job in finance to pursue a career in stand-up comedy. My dad thought I was crazy. But I figured it was better to disappoint my parents for a few years than to disappoint myself for the rest of my life. I had to disappoint them in order to pursue what I loved. That was the only way to have my Chinese turnip cake and eat an American apple pie too."
Article of the Month:
Congratulations to Sandra Oh for becoming first Asian actress to win two Golden Globes. Her speech to her parents was special. Read here to find out.
Recipe of the Month:
On New Year, Korean families gather together to celebrate and eat tteokguk, rice cake soup. This soup is often decorated with green onions, chopped egg strips, crushed seaweed, and beef.
"The whiteness of the soup symbolizes a clean, fresh start to the new year, and the disc-shaped rice cakes look like coins, so they symbolize a wish for upcoming prosperity for anyone who eats them."
It's not only for special occasions, You can eat it at restaurant on a cold day! You can find ingredients at Korean grocery stores. For recipe, check here.
SCADA Events:
February Deaf Asian Night Out (DANO)
Where: 85 Degrees
Address: 2626 E Garvey Ave S, West Covina, CA 91791
When: February 15, 2018 at 3pm-9pm
SCADA officers will be there at 6pm-9pm.
Please show this flyer below to the cashier when you order. 25% of all sales will proceed to SCADA.
Annual Lunar New Year luncheon
Where: Vegas Buffet
Address: 110 S Brand Blvd, Glendale, CA 91210
When: February 16, 2019 at 11:30AM-1:30PM
Where: TBA
When: Spring 2019
SCADA 20th Year Anniversary Gala
Where: Trinity Ballroom
Address: 778 S Rosemead Blvd, Pasadena, CA 91107
When: June 22, 2019 at 4PM-11PM
I hope you enjoy this newsletter! Share your feedback and recommendations for February 2019 newsletter!